Optimizing Every Flight since 2001.
Recognizing that aircraft vary from model-to-model, Latitude is pleased to offer a selection of dialers, displays, and control panel interfacing options as well as satcom handset solutions. Whether docking multiple dialers in your aircraft for special mission operation or trying to operate on limited space, Latitude has solutions that have been designed to meet your functional needs. Explore options sold individually or packaged within a complete solution below.
For information on display interfaces and dialers or to place an order, please contact us through one of the following options: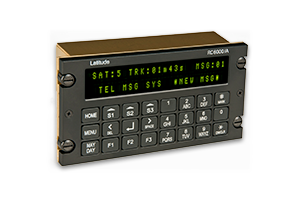 Control and Display Panel
The RC6000/A Control Display Unit features an intuitive user display with large control buttons for gloved users and high vibration operation, cockpit certified to -45º C. The RC6000/A CDU has an integral switch button for "emergency" notification, "down and clear" reporting, and a "mark" button for designating locations. In addition to free form messaging and telephone book, redial and other features, the RC6000/A display has visual cues for satellite signal strength and connectivity. Its VFD display is 2 lines, or 48 characters total, and interfaces to existing SkyNode products including the S100, S200, and IONode models. Dzus rail mounted panels are very compact at three inches in height and weigh less than a pound. The RC6000/A is a highly robust display and is currently certified on both Bell and Eurocopter models.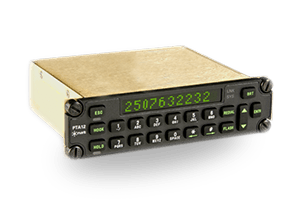 Airborne Telephone Dialer/Adapter
The PTA12-100 Dialer/Adapter is a compact Dzus mounted telephone interface with a full function Touchtone keypad and LED display. Utilizing the 2 wire POTS interface from the telephone, the PTA12-100 provides complete telecom control and standard DTMF (Dual Tone Multi Frequency) dialing capabilities. Speed dial allows numbers to be stored and recalled from memory. The interface allows the flight crew to access the telephone system through the aircraft's audio system, maintaining full headset operation. A handset can also be used in parallel with the PTA12-000 or PTA 12-100 to provide satcom system access for the cabin. The PTA12-100 can be used with many of today's airborne telephone systems including the Iridium and Inmarsat communication networks.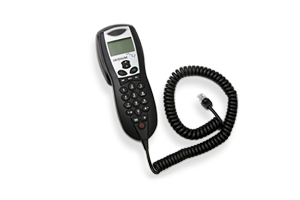 The Iridium DPL Handset provides an easy user interface to any Iridium terminal. The Iridium DPL Handset supports SMS, Message Waiting Indication, Signal Strength meter and various language settings. The intelligent handset has ring indication and comes complete with cradle.
The Deklin Technologies DT100-303 analog telephone handset is a practical and economical solution for today's aircraft telephone systems. Its sleek comfortable lightweight design fits easily into any cabin decor. It has advanced features such as a noise reduction microphone and adjustable volume with user friendly operation. The Deklin handset is compatible with SkyNodeS200-021.