ENode Engine Data Acquisition
Optimizing Every Flight since 2001.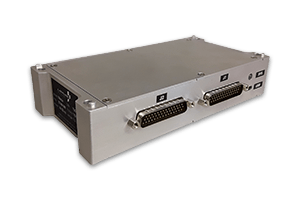 ENode Engine Data Acquisition
Protect your aircraft from catastrophic failure, reduce potential risks and expenditures, all while saving your fleets bottom line. Enter the ENode, Latitude's engine data acquisition unit built to enable engine conditioning trend monitoring (ECTM), flight data monitoring (FDM), and fuel management programs for aircraft.
For information on the ENode or to place an order, please contact us through one of the following options:
System Features
• Inputs for rotor, compressor, turbine and propeller RPMs
• Synchro inputs for position sensing
• Thermocouple inputs for ITT and EGT signals
• General-purpose analog voltage inputs for data acquisition
• Discrete inputs
• ARINC 429 output
Capture and digitize engine parameters from tachometers, thermocouples, synchros and variable voltage sources without interfering with the source signal.
Physical Specifications
• Width: 6.72 in (17.1 cm)
• Height: 1.33 in (3.4 cm)
• Depth: 3.44 in (8.7 cm)
• Weight: 1.1 lb (500g)
Qualifications & Approvals
• Operating Temperature range: -45º to +70º C
• RTCA/DO-160G
• FAA and TCCA approved
Additional Reading
Packaged into a small, lightweight box, the technology offers a versatile solution supporting all twin turbine engine aircraft and operators by providing access to timely and actionable information. Effortlessly record ECTM data, while receiving vital notifications, engine parameters, exceedances, and more.
Designed to operate with Latitude's modular system of aircraft communications and monitoring solutions, the ENode allows operators to reduce their operating costs and increase operational awareness. The ENode can be installed on its own to capture engine signals and convert to ARINC 429 or can be mechanically coupled with Latitude's IONode lightweight flight data recorder. Protect your bottom line and see a measurable return on investment by staying in control of your system status, reducing unexpected maintenance expenditures and catastrophic failures.
Turn your recorded data into actionable information with Latitude Flight Data Analytics, our complete web-based system for storing, viewing, managing and analyzing flight data to support your operations. Flight and engine data is automatically sent on to specialized service providers to deliver industry-leading ECTM and fuel use analysis.