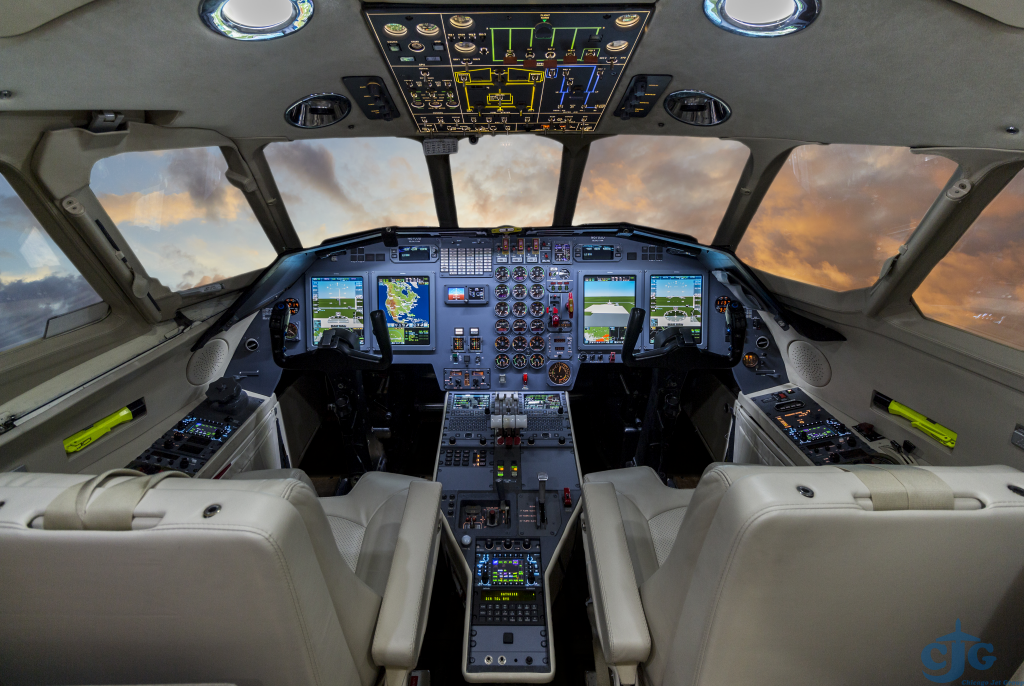 LAS VEGAS, Nevada, October 12, 2021 – Latitude Technologies, a leading provider of Iridium-based Safety Services solutions, today announced that its SkyNode S200-012 has been selected by Chicago Jet Group (CJG) as a principal Long Range Communication System (LRCS) in its Universal Avionics InSight flight deck upgrade and respective Supplemental Type Certificate (STC) onboard the Dassault Falcon 900B.
As part of Chicago Jet Group's InSight upgrade, the SkyNode S200-012 enables Air Traffic Services (ATS) utilizing Direct Pilot to Controller SATVOICE via Iridium, providing globally available connectivity.
"The Latitude Technologies brand offers high quality, high reliability avionics for the business aviation segment," mentions Mike Mitera, CEO, Chicago Jet Group. "Our clients and partners trust us to provide them with sound advice and quality components so they can continue to operate their aircraft and both the DL150 and SkyNode S200 have been included in our latest STC programs for this reason."
The SkyNode S200 features multiple voice communication interface options including a Dual ARINC 739A MCDU interface, or a single RS-232 Cockpit Display Unit. Designed to ICAO SVGM and AC20-150B, the SkyNode S200 supports AES-256 encrypted communications and Iridium voice calling to Air Traffic Services and Maintenance Operations/Aircraft Dispatch.
"Latitude Technologies' DL-150 Data Link and SkyNode S200 SATVOICE solution are now approved for both the Falcon 50 and Falcon 900B," mentions Ray Larkin, Executive Aviation. "We are proud to continue our relationship with Chicago Jet Group and are encouraged that they lead the way in sustainable long range communications solutions for the business aviation community."
To learn more about Latitude Technologies Iridium-based Safety Services solutions, please contact sales@latitudetech.com or visit us at Booth 1317 at NBAA-BACE 2021 from October 12th to 14th.
About Latitude Technologies Corp.
Founded and operating out of Victoria, British Columbia for over 17 years, Latitude is a leading avionics design and manufacturing firm that provides flight data monitoring, flight following, satellite data link and voice communications equipment and services to fixed and rotary wing airline operators and OEMs. Latitude offers complete aircraft communication systems with air-time and service options supporting flight safety, fleet logistics, operations, and maintenance information through data analytics platforms. For more information about Latitude's products and solutions, visit www.latitudetech.com.
About Chicago Jet Group
Chicago Jet Group is the premier provider of PBCS compliant, data link solutions, avionics upgrades, installation, and certification, meeting all requirements of NextGen Data Communications, FANS 1/A+ Controller-Pilot Data Link Communications (CPDLC), Automatic Dependent Surveillance – Contract (ADS-C) and European Aeronautical Telecommunications Network Base 1 (ATN-B1). For more information about CJG, visit www.chicagojetgroup.com or call (630) 466-3600 or 866-JET REPAIR.