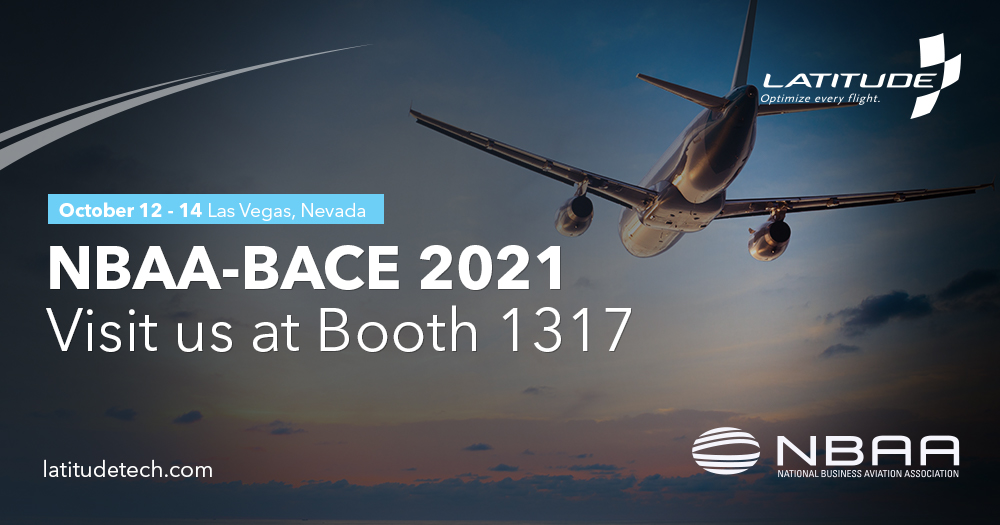 The National Business Aviation Association (NBAA), a leader for companies relying on general aviation aircraft to make their businesses more efficient, productive, and successful, is hosting the annual Business Aviation Convention and Exhibition (NBAA-BACE) – the world's largest civil aviation trade show. This notable event is taking place at the Las Vegas Convention Center from October 12 to October 14.
With products and services enabling capabilities for business aviation, Latitude Technologies is an active and proud member of the NBAA and will be exhibiting at NBAA-BACE. Latitude Technologies will be co-exhibiting with sister companies, FreeFlight Systems, Flight Data Systems, and SKYTRAC at Booth 1317. This year, Latitude Technologies will also be hosting a press conference on Tuesday, October 12 at 10 am in room W213 to announce exciting news, including partnerships and capabilities.
With the DL150 Satellite Data Unit, the IONode Flight Data Recorder, and the ENode Engine Data Acquisition Unit, Latitude Technologies offers the business aviation segment critical solutions including FANS 1/A compliance, flight data monitoring, and engine trend monitoring, all assisting operators to create operational efficiencies.
REGISTER FOR NBAA-BACE
To register for NBAA-BACE 2021, please visit https://nbaa.org/events/2021-nbaa-business-aviation-convention-exhibition-nbaa-bace/registration/. 
SCHEDULE A MEETING
Latitude Technologies' Director of General Aviation and Helicopter Sales, David Thomas, will be in attendance to discuss Latitude Technologies' exciting products and capabilities. To schedule a meeting, please contact david.thomas@latitudetech.com. 
.