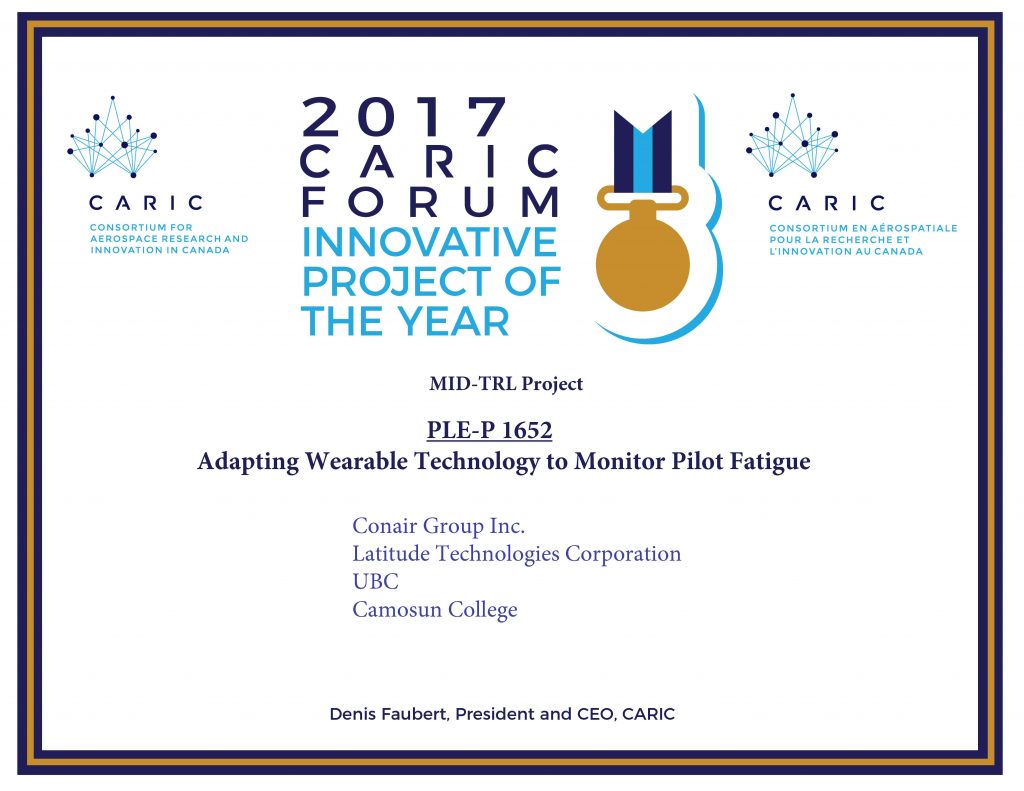 Three years in the making, Latitude Technologies Corporation has been partnering with Conair Group Inc., University of British Columbia, and Camosun College to carry out research assessing pilot fatigue in specialized aircraft operations.  The goal of the collaborative research is to improve flight safety by identifying practical parameters and tools to help best define "fitness to fly".
The research was initiated in response to Transport Canada's updated flight duty regulations. Conair, with its focus on aerial fire attack, is a very different operator from scheduled transport and other commercial carriers that fall under the new regulations. As such, Conair had a desire to develop their own scientifically-based model for pilot fatigue risk management with the hope that this would provide some basis for exemption from the regulatory changes.
For over 16 years Latitude has been providing Conair with flight following and flight data analytics solutions for their firefighting fleet. Latitude has assisted in this current research by providing high granularity flight data from IONode devices installed on Conair air tankers. IONodes record a vast number of parameters during flight – everything from control surfaces, loads, engines and accelerations to spatial positioning including attitude (yaw, pitch, and roll).  The collected data is automatically distributed to the research partners for statistical analysis to look for markers of pilot fatigue.
Latitude's own Flight Data Analytics (LFDA) application is also used to generate flight hour and phase of flight reports as well as automated event detection for the fleet under study. This allows researchers to identify times of interest and peak pilot workload to correlate with physiological monitoring.
Phase one of the study has already received recognition as the 2017 CARIC Forum Innovative Project of the Year. The ultimate intent is to try to develop an assessment system through wearable technology and other means that will notify and alert pilots when they should and should not fly. Monitoring the health and wellbeing of the individual who is operating the aircraft is a critical step to improving overall safety.
The research doesn't stop in the aerial firefighting domain. Developing solutions to monitor pilot fatigue will bring benefits to the aviation industry at large. Whether for pilots on duty in the early hours of the morning, or crew operating long-haul routes through multiple time zones – monitoring pilot fatigue is another way to optimize every flight.